Top 4 Most Interesting Musical Instruments That Are Easy To Learn
Posted on September 17 2017
This article was last updated in September 2017. For those of you who browse this page for kalimba, welcome to our latest special review on kalimba 2019, which is much more updated and elaborated.
Are you looking for a birthday gift for your teenager nephew who happens to be a music lover or at least you think he would be? Or are you searching for yourself a small musical instrument to play with after work or on weekend but you hardly know any music theory and do not have enough time to do deep learning? Or maybe you are a musical instrument shop owner who is looking to sell some small trendy gadgets together with the traditional ones?
Today, after researching more than 20 musical instruments and testing some of them over the past 6 months, we are sharing with you a list of 4 top interesting musical instruments that are less formal, mostly for fun, and easy to learn that an entry level can already serve the purpose of entertaining oneself.
---
1. Kazoo
This Kazoo thing comes in the first place because it turns out to be the easiest musical instrument one can probably handle. Also, the cheapest.
Instead of blows into it, a kazoo player hums. You hum into the mouthpiece which is the wider end. It amplifies your voice and makes a saxophone-like sound by vibrating its membrane over your hum. So you do not need to learn anything about keyboard, or music theory, or anything else. The only thing you need to do is… hum! In other words, as long as you remember the tune of a song, you can play it, no other skill required.
Though it can do solo, in many cases it also plays a role as accompaniment of other musical instruments, mostly with guitar, ukulele, and cajon drum.
Some kazoos have removable tops that are screwed on or pushed in, while others are non-removable that are glued in. If it is removable, then player could adjust the membrane a bit.
Types of kazoo include plastic, wooden, and metal kazoos, depending on personal style and required sound quality.
Our Pick:
Hohner KC 50 Kazoos of Assorted Colors, 50 Pack
Plastic kazoo has a relatively accurate tone, and normally have a variety of bright colors available. This 50 pack from Amazon with high rating and reasonable price can surely be a brilliant gift to give out to neighborhood kids.
Upgrade Pick:
The Original Wooden Kazoo - Channel Craft - Made in the USA
Wooden ones has a more open and loud sound. This wooden kazoo is more sturdy and durable compared to other materials.
Runner-up:
Trophy Musical Instruments 701 Grover Trophy Metal Kazoo, Colors May Vary
And if you're still looking for something of a higher quality then these, consider a metal kazoo. It has the least loud sound compared with the other two but has the finest sound. Pick a good one for this so you don't have sharp metal edge.
Famous brands that sell kazoo include HOHNER from Germany and Clarke from UK.
---
2. Melodica
Melodica is basically an accordion mixed with a harmonica. It is light and portable, and has a great and decent sound. You can play it onstage or just at home for your own amusement. It is a free reed instrument similar to harmonica, but with a musical keyboard on top and is played by blowing air through a mouthpiece. The keyboard is usually 2-3 octaves long.
Melodica is now widely used in basic music education in schools all over the world, especially in Asia. So if it is for this purpose, that you are buying more than 1 piece, then getting them from China would be a great idea as the price can be as low as less than US$ 5 per piece with ordinary quality.
However, as players will put the mouthpiece in their mouths when playing, the manufacturer's qualification and product quality need to be 100% assured. Working with a local third party or simply with us to handle inspection work can be an effective and useful option.
This musical instrument can be categorized mostly into 32 key or 37 key, or into Soprano and alto melodicas, Tenor melodicas, and Bass melodicas.
Our Pick:
Swan 37 Key Piano Style Melodica,Suitable for Teaching and Playing,with Carrying Case (Black)
- 37 key that is wider in the range
- Comes with a really nice case for protection
- Includes a short mouthpiece for standing performance and a extension hose for sitting performance
- No comment about "out of tune" or "broken key" problems so far, which are the biggest concern when buying melodica
Also Great:
Hohner 32B Piano-Style Melodica Black
- Range of over 2+1/2 full octaves for soprano or alto, 32 keys starting with "F" below middle "C"
- Has a great sound assured by its historical brand
- The plastic material in this one feels a bit cheap and flimsy
Budget Pick:
ammoon 32 Piano Keys Melodica Musical Instrument for Music Lovers Beginners Gift with Carrying Bag
- Best seller in Melodicas with its cheap price
- Also has 2 forms of mouthpiece
- Buyers expect it to be more of a toy but turns out to be sturdy
- However one may find broken key or key out of tune if get unlucky
If you are buying it in local stores or shops, watch out and test for problems like escaping air and spit leaking, and whether the mouthpiece could be comfortable and easy to hold in your mouth.
Famous and reliable melodica brands:Suzuki, Yamaha, Hohner
---
3. Kalimba / Mbira / Thumb Piano
Another "easy to learn, play, and take" instrument.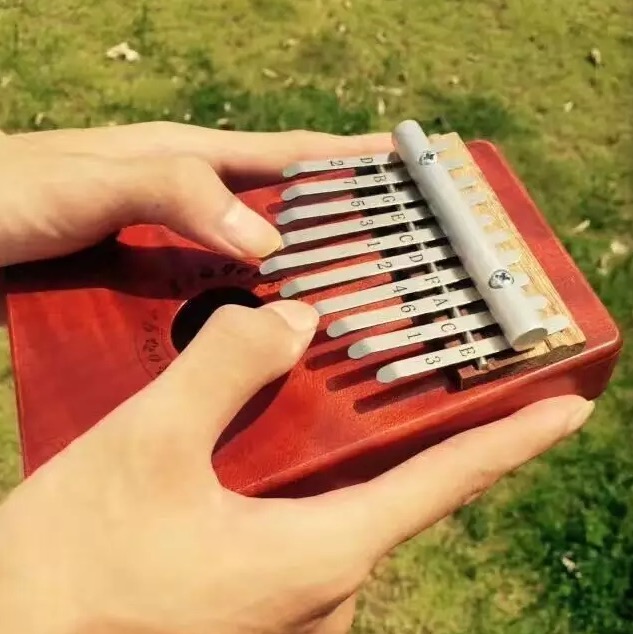 Kalimba is a popular musical instrument in Africa where it was originated (also known as Mbira, thumb piano etc.), and is now loved by people all over the world. It sounds very like a traditional music box.
Besides what you see in the picture, it also got two vibrato holes on the back. Players cover the vibrato holes with their fingers, then pluck the keys with their thumbs. When playing, un-covering and covering the vibrato holes will make the melody even more pleasing.
The pro is, Kalimba is kind of soft and quiet, so you won't be worried to get any complaint about its sound from your neighbors. The con is its limited music styles, that it is best and only suited to play soft and light music.
Main types of Kalimba: 17 key (treble), 15 key (alto), and 11 key (pentatonic).
When choosing your own Kalimba, you may want to pay attention to 2 main facts:

The tone and timbre quality itself - depends on personal preference;
The difficulty to tune - whether the "bridge" part is too secure and too loose for player to tune, and whether it holds the tines well after tuning.
Here are some top picks according to our research:
Our Pick:
Hugh Tracey Treble Kalimba 17-key Treble Kalimba
The "Hugh Tracey" brand itself gives a guarantee on its tune and timbre quality.
Budget Pick:
M Y Fly Young Finger Piano Kalimba Mbira Likembe Sanza Thumb Piano 10 Key Light Yellow
This one is 10 key, which will be easier for beginners.
And the price is cute, with a sweet sound, not bad.
Definitely a budget pick.
Special Pick:
Hand Carved Sea Turtle Thumb Piano Karimba
Special, huh? Not only special in its shape, but also in its material - it is hand-made of wood and coconut in Indonesia, gives it a temperature and unique story for each one.
It will be an awesome gift.
Famous brands in Kalimba:
Hugh Tracey (South Africa), Hokema (Germany) , Dobani (Pakistan), GECKO (sold very well in China)
---
4. Ocarina
Ocarina sounds a bit like flute when being played. It is listed at the last place because it is actually harder to learn than it looks to be, for example, getting the right tune and keep it steady and smooth. Some beginners (or some ocarina products) even have difficulty to make a single sound with this instrument.
Amazon covers all types from 4 hole ocarina to 13 hole, with 6 hole and 12 hole as its mainstream.
Surprisingly, it is not one of those cases where "less holes, easier to learn". We suggest you get a 12 hole ocarina for a start, because those with 6 holes (or others) have a much more difficult finger pattern for learners to memorize.
One key and simple trick to test an ocarina:

When you are leaving all holes open and not covering any, it is the highest pitch that an ocarina could get, BLOW INTO IT. The tone quality at the highest pitch will be of great help for one to tell whether the timbre of the instrument is good enough - because if there is any problem, it would most likely to occur at the highest pitch.
Our Pick:
Night By Noble Plastic Ocarina AC Black
It is very appealing to the eye and very comfortable in hands. High notes are all in tune. Though it is made of plastic, its sound is even better than most ceramic ocarinas.
Video reviews are available on the amazon page.
---
In addition to the instruments mentioned above, there are some other musical instruments that are worth a shot, such as cajon drum, xylophone, bongos, comb buzzer, autoharp etc. But in fact, we cannot assert for sure which one is easy and which one is difficult. All of them are easy to learn but difficult to master as any other musical instrument does. This list only shows relatively easy ones that a novice can enjoy himself when playing, instead of getting bored with usual repetitive practice.
However, what we can say for sure is that if you got any sourcing demand, especially for niche and special product, we could be of great help and make it a lot EASIER for you. Contact us here.