Big Little Pins - The Story and Business of Pins
Posted on August 03 2019
A pin, or a badge, is a symbol. How popular is pin nowadays really? You may think it is old-fashioned and people don't wear them anymore unless it's necessary. In fact, this small pin is still well liked by many people and the group is getting bigger and bigger. The data from Google Trend says it all. With the Olympic Games to be held in Tokyo, there will be another collecting spree!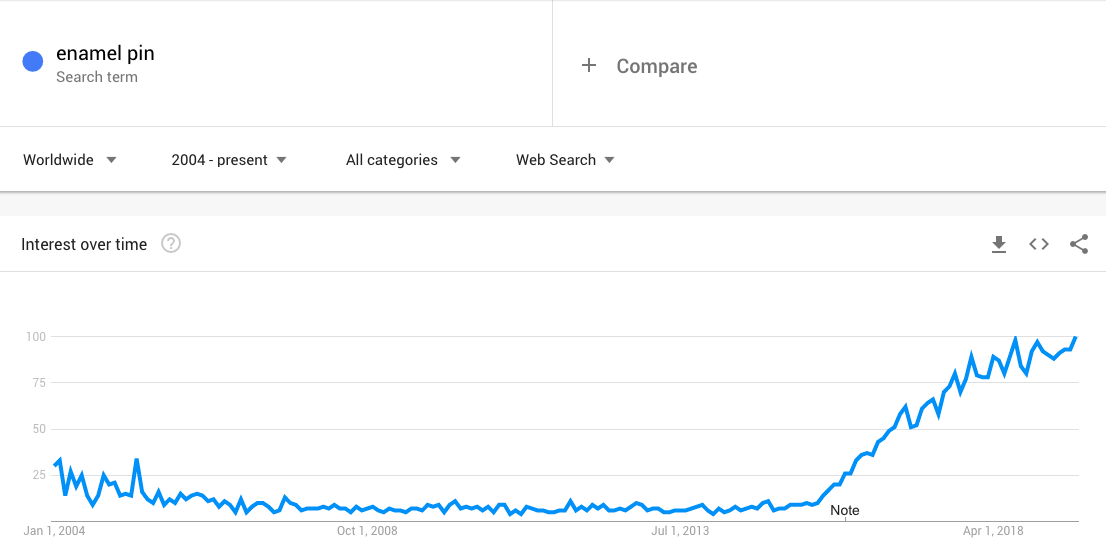 (Google Trend for "Enamel Pin" Worldwide)
There are mainly four types of pins due to their differences in dying, moulding, and finishing processes:
1. Enamel pins
Enamel pins are brightly colored and made with die-struck metal. They are usually exquisitely made and have moderate price. You can also choose a surface with or without a layer of transparent resin, commonly known as "Epoxy". An enamel pin with the surface is called hard enamel pin, whose surface is smooth; and one without is called soft enamel pin, with lines of metal slightly raised. You can easily tell their difference in appearance by just looking at them.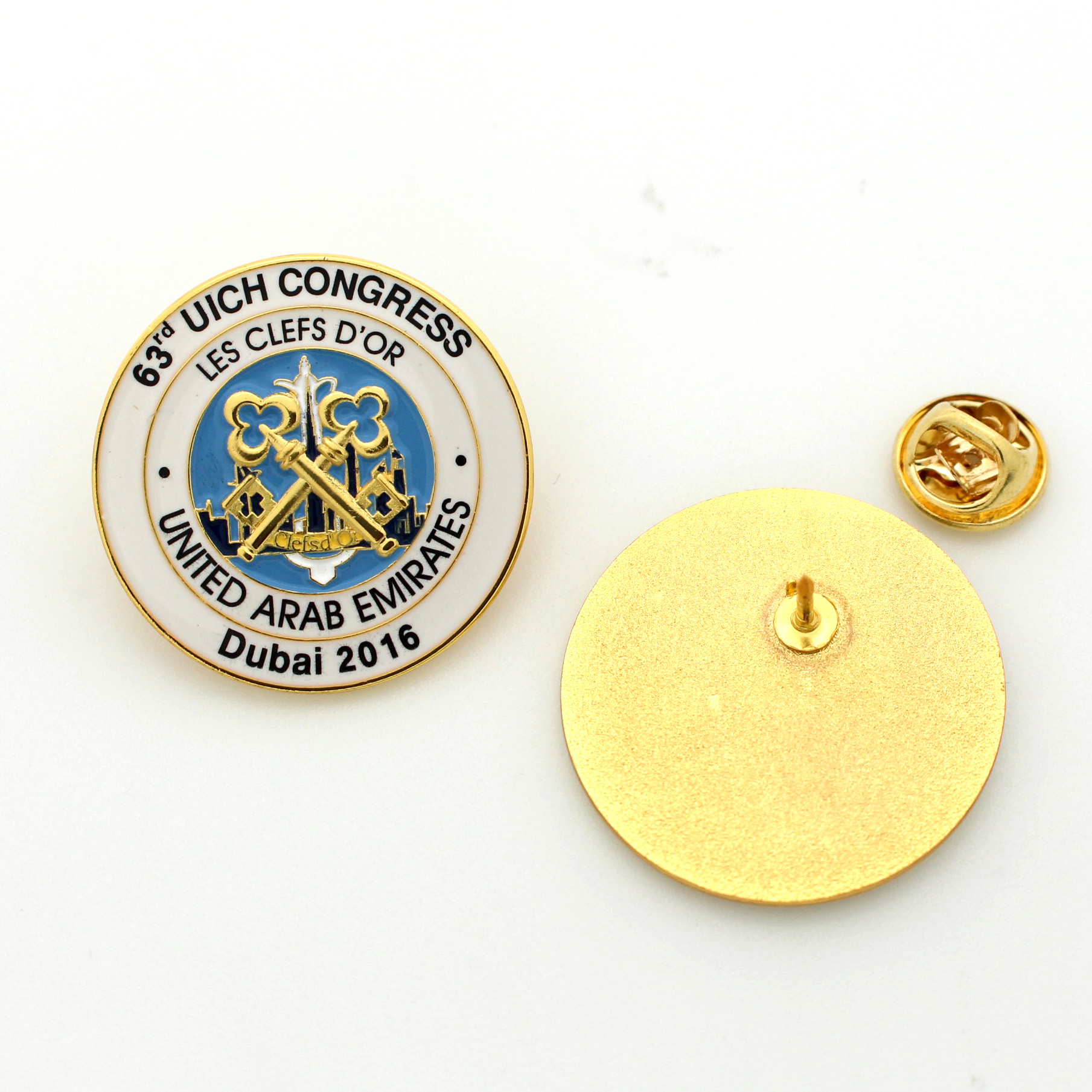 (Above: SOFT enamel pin)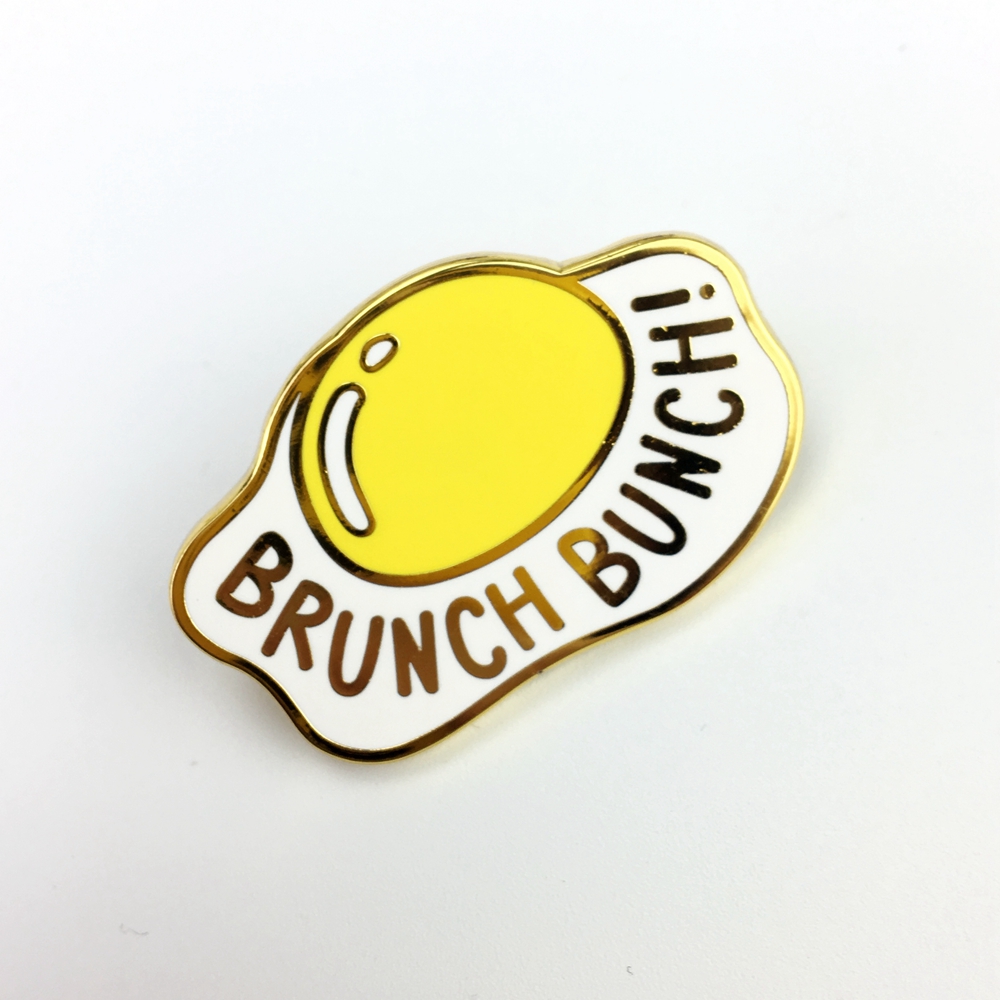 (Above: HARD enamel pin)
2. Die struck pins
Die struck pins are like soft enamel pins but feature no colors. Materials like copper (red copper, bronze, etc.), zinc alloy, iron, aluminum are commonly used in this type of pins. The surface can be plated. The concave part sometimes uses sandblast design.
(Above: die struck pin)
3. screen printed pins
Screen printed pins usually have intricate designs, as the small details make it difficult to reproduce with die-struck metal . More colors are also available with screen printed pins, and even the use of gradients and photographs are possible with this pin type. However, some people think that the printing gives a feeling of cheap.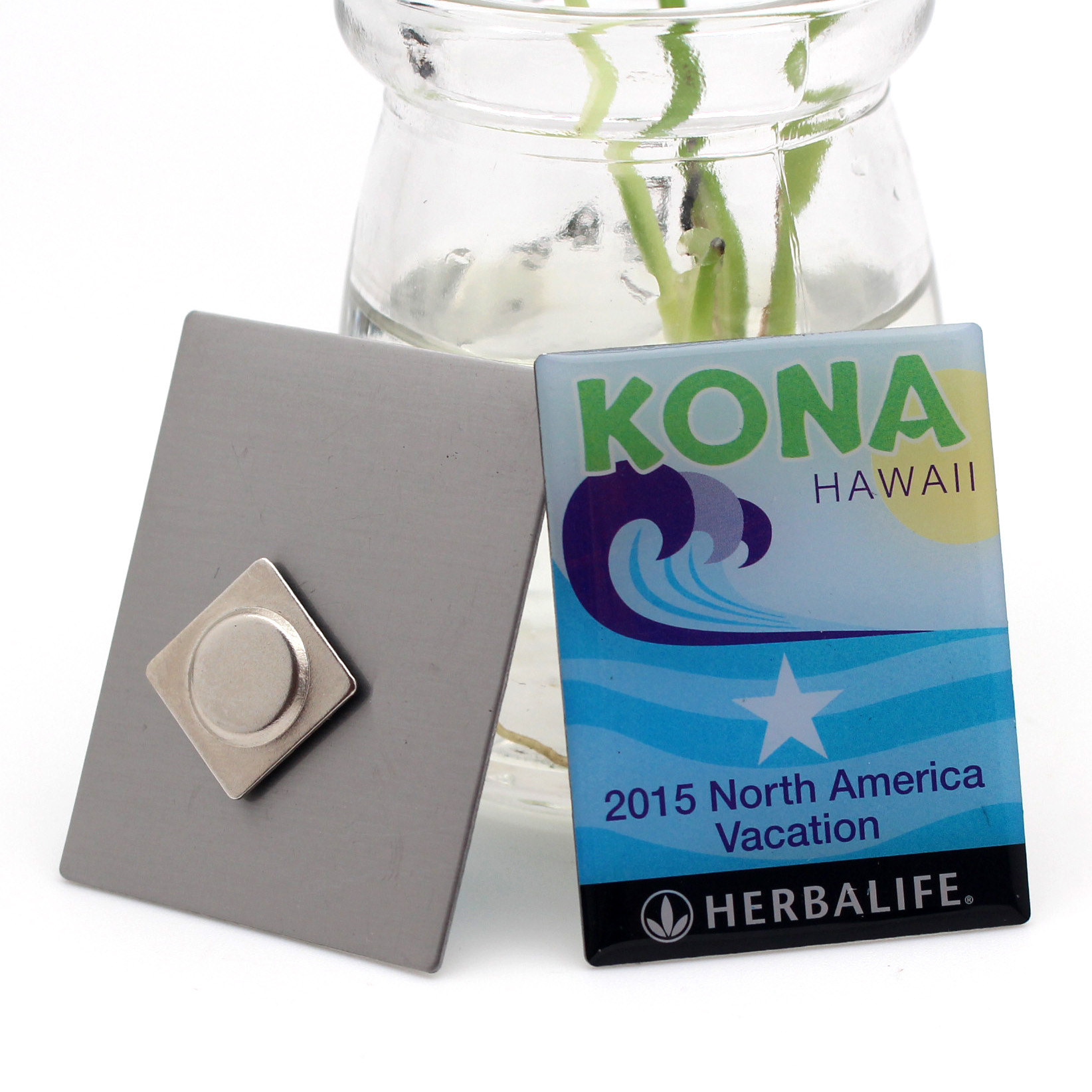 (Above: screen printed pin)
4. Cloisonné Pins
Cloisonné pins have a long history dating back to ancient China. These pins are made with die-struck metal and glass enamel. They are usually exquisitely crafted with vivid colors. The lines can be electroplated with gold, silver, etc., and the surface is smooth and delicate, giving a high-end luxury look and feel of texture. All of these make it the first choice when one is looking for high-grade quality pins.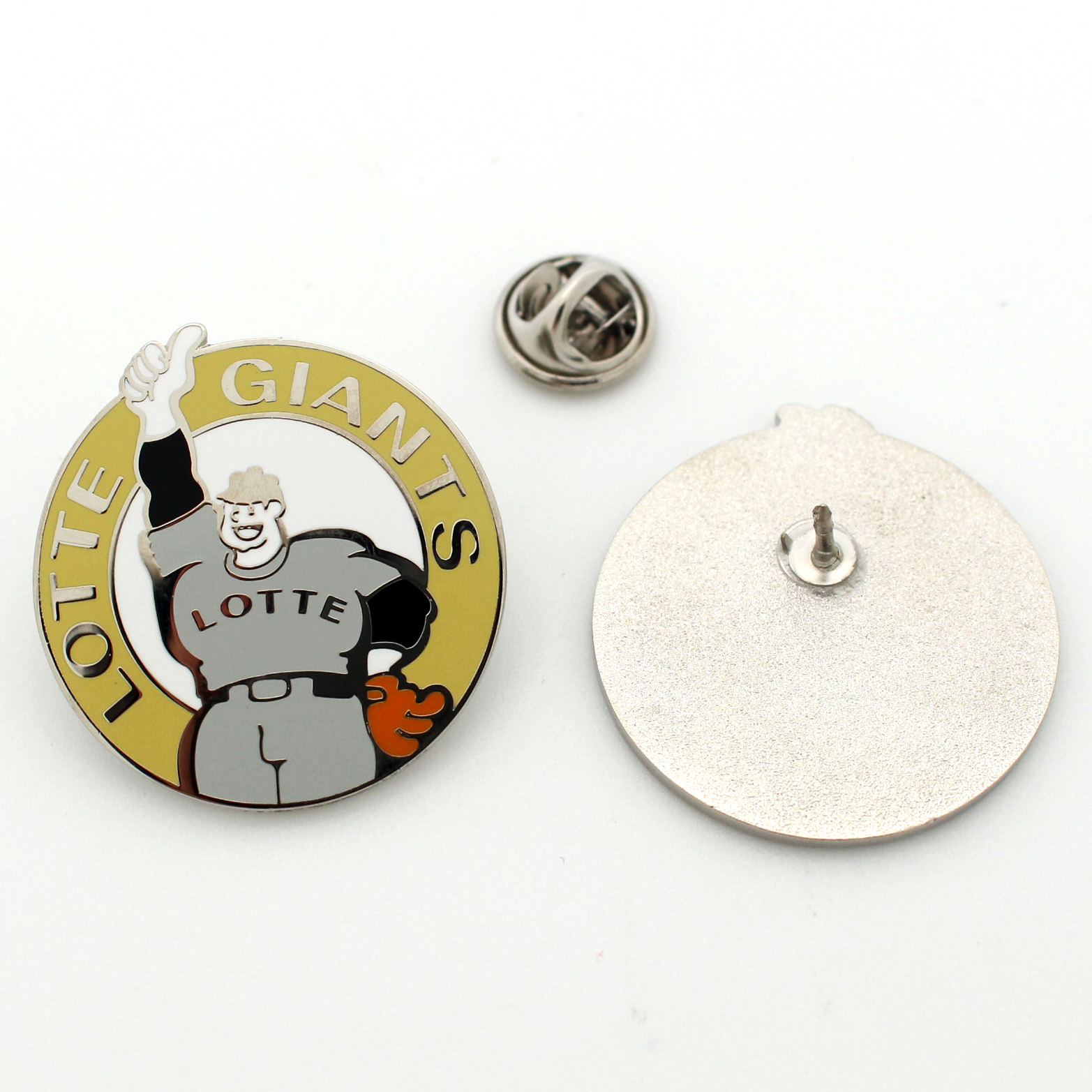 (Above: Cloisonné Pin)
There are some other types of pins as well these days, such as 3D-printed pins and sew-on pins.
Customers love this trinket because of its symbolic meaning or decorative purpose. Merchants love it not only because of its sales volume that brings nice profit, but also for the following reasons:
For brick and mortar business - Pins are small in size and not taking much of display space and storage room, yet can be sold at relatively high unit price and good margin. For the same reason, adding SKUs to cater to the tastes of more customers would be easy too. What makes this product worth considering is that it offers retailers a lot of versatility: whether you sell apparel, handbag, stationery, or want to add this category to an existing fashion accessory store, you'll be able to find pins in different types and styles to meet the needs of your diverse customer base.
For online business - Same thing with storage space : they are small. One can easily sell dozens or even hundreds of SKU online from their small home offices, and the stock may only take the space of, say a three-story shelf or two carton boxes. A lot of manufacturers in China start with low MOQ, like 5 or 10 pieces per SKU. Packing is easy, goods are not fragile at all. And delivery is cheap, due to their small volume. Both leave more margin space for merchants and retailers.
For both forms of business - Repetitive Buyers. Once they buy from you, you can expect more orders from them in the near future, as most individuals won't just buy them only once. Collecting is a habit. And as we all know, most businesses rely on their returning customers for 80 percent of their business, and it's less expensive to maintain an old customer than to attract a new one.
Above is "WHY to choose", next is "WHAT to choose". Pins with niche and interesting designs would be a good choice. No one wants to clash with someone who wears the same pin. Don't just go with what others are selling. Target at certain groups of customers instead, and gradually increase the number of different groups. Let me give an example, "pokefasu" series by Japanese designer is interesting. By searching the keyword you could see its uniqueness and smile. Also, customization is the trend and would be practical and rewarding if you already have enough repetitive buyers and can reach the MOQ required by suppliers.
---
Small pins are big, small business are big as well. We are the leading sourcing partner from China, and provide one-stop sourcing solution for small business. ChinaMarket is dedicated to helping you find suppliers with speed and ease.
If you got any sourcing demand, be it niche and special product, we could be of great help for you. Just leave a message here.